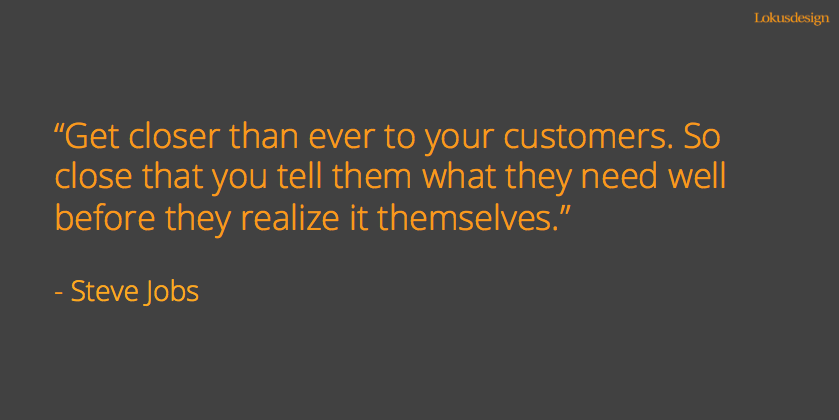 These words by Jobs hold true for companies, individuals, multi-national corporations, and most of all, Brands. Customer engagement is now of utmost importance to every one of them. One may ask why?
While there are many reasons why Customer Engagement is important, the essential rationale is simple – a highly engaged customer invests emotional bandwidth in building a relationship with the brand. Such enduring relationships create loyal customers who tend to buy and promote the brand, the product, and services.
We have written previously about what brands can do to foster such engagement. This post is for those who are still grappling with the "why?" Here are 7 other reasons why it is important, and necessary, for companies to emphasize user engagement.
Lower barrier to engage with other brands and products
It is especially important in today's digital era where consumers have easy access to so many trends and products through their mobile phones. People no longer have to head to a store to buy things. Everything can be done through their device. In fact, 70% of customers say that because of technology, they now find it easier to take their business to other brands. Buyers are also highly influenced by social media and the next feel-good ad or folksy meme from a competing brand. A brand has to work hard to engage and retain clients in this competitive digital era.
Increases revenue
Good customer engagement leads to improved revenue and profits to a company. It's an acknowledged fact of business that finding a new customer is at least 5 times as expensive as nurturing an existing customer. Also, brands with strong multi-channel strategies for customer engagement retain 89% of their customers, as compared with only 33% customer retention by companies that don't have such strategies.
This is why companies today have to place more emphasis on creating decisive engagement strategies including attractive endpoints like websites, apps, software, and physical experiences.
Makes quicker sales
Proper and effective user engagement helps shorten the sales cycle. Providing the prospective buyer with all the information needed to make an informed decision in one place like the user engagement portal helps speed up the sales cycle.
The alternative is the customer having to spend time navigating through your store or website, looking for information. An extended buyer journey carries with it the risk of your message getting diluted. In fact, McKinsey says that when customers are satisfied with the journey they traverse while buying, customer satisfaction can go up by 20%, revenue by 15%, and the cost of customer service, reduced by 20%.
Better customer advocacy
Todays consumers prefer doing business with brands that treat them well and keep them engaged. In fact, 70% of buying experiences are based on the customer's feeling about how they are being treated. They will not hesitate to put in a good word about those brands and are staunch brand evangelists. They will recommend you whenever their friends complain about your brand. The happy customers whom you connect with the most will go all out and talk about your brand in forums and on their social media feeds.
Repeat business
Engaged customers are also ready to spend a bit more at their favourite brands than disengaged clients. In fact, consumers buy 3 times as frequently from brands when they are convinced that the brand is doing well on offering them a personalised experience. It's not only the brands and retail establishments that benefit from great user engagement. Even banks benefit through engaged clients who provide more annual revenue to their bank, have a higher deposit balance there and use more banking products. The same is true for restaurants and hotels.
Improved customer service
This is a two-way street. Several studies show that consumers are ready to end relationships with a brand only because of poor customer service. But it is also true that the best way to improve your customer service is through improved user engagement in general. It's curious but true that 1 in 3 consumers would recommend a brand if it provided them with an immediate response to a query -even if the response was ineffective! The key takeaway is that better customer service will lead to greater customer engagement. But great customer engagement also buys your brand a bit of leeway, that little bit of patience, when the customer is facing an issue.
So, as you can see, customer engagement is vital for any brand. The customer is always king, and if you can keep your customers engaged with you, they will definitely want to come back to you for more.
You will notice that the seeds you sow while building your relationship with a consumer grow and flower as your customers spread the good word about you, give you repeat business or generate more unique visitors and buyers for you. That's the power of an engaged customer.
Want to drive customer engagement for your brand? Write to us on info@lokusdesign.com