Identifying and understanding opportunities for innovation in the body spray segment.
Analysis and conclusions.
WHO? WHEN? WHERE? WHAT?
• 46% of the working professionals use body spray on torso and armpit. Minority of working professionals use spray on entire upper body with neck.
• 33% of youth uses body spray on upper body and clothes. Minority of youth uses body spray for torso. Most of the youth is unsure about usage of the body spray on  body so they have tendency to use the spray on entire upper body and clothes.
Due to high spending capacity the average spend in working professionals is higher, as working professionals are willing to pay a larger value the overall average spend in youth is lower as compared to working professionals.
WHICH ARE THE PREFERRED BRANDS AND THE ASSOCIATED PREFERENCES?

WHERE ARE THE PERSONAL CARE PRODUCTS STORED?
Consumers are proud of products they put on display. They romanticize, fantasize, and are intimate with these products. Body sprays have the potential to be just as sexy and aspirational as other display product categories. So lets get body sprays out of our bags and show them off!

Successful product categories with high loyalty are categories focused on building emotional consumer connect the body spray segment is sitting on the fence; lets drive it in the direction for success.
WHAT ARE THE PREFERENCES BASED ON THE FIVE SENSES AND WHAT ARE THE OTHER INSIGHTS?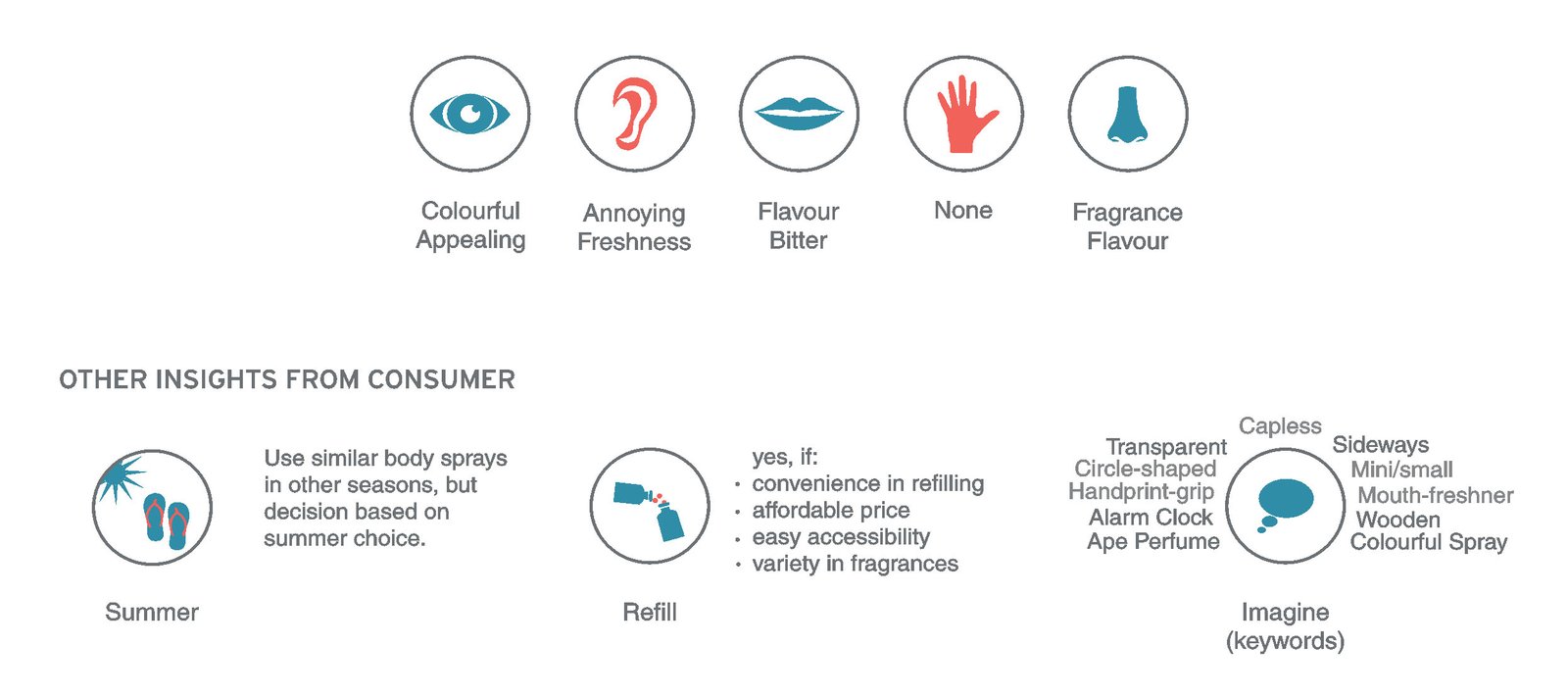 Long lasting and strong fragrance is a preference.
HOW DOES A CONSUMER CHOOSE?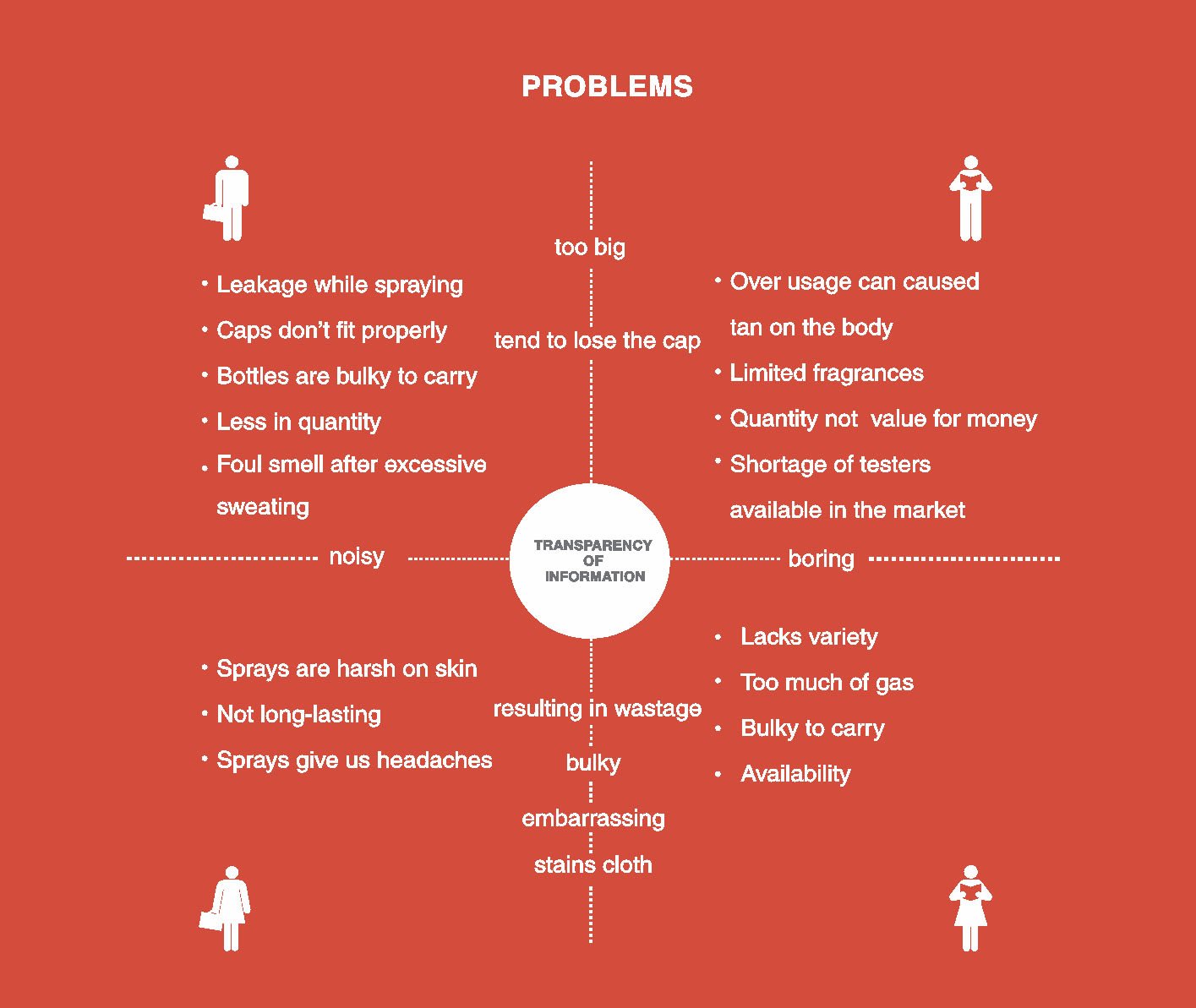 By understanding each of the consumer quadrants and split analysis in terms of spending capacity and usage, one thing is very clear… Boys will remain boys. Girls will remain girls. Concerns are similar. The extent of innovation differs due to lifestyle and economic variables.
IS THIS AN OPPORTUNITY FOR BRANDS TO BECOME LEADERS? HOW?
INNOVATION IS THE KEY!
But innovation requires investment. So to which extent should a brand invest in opportunities of innovation.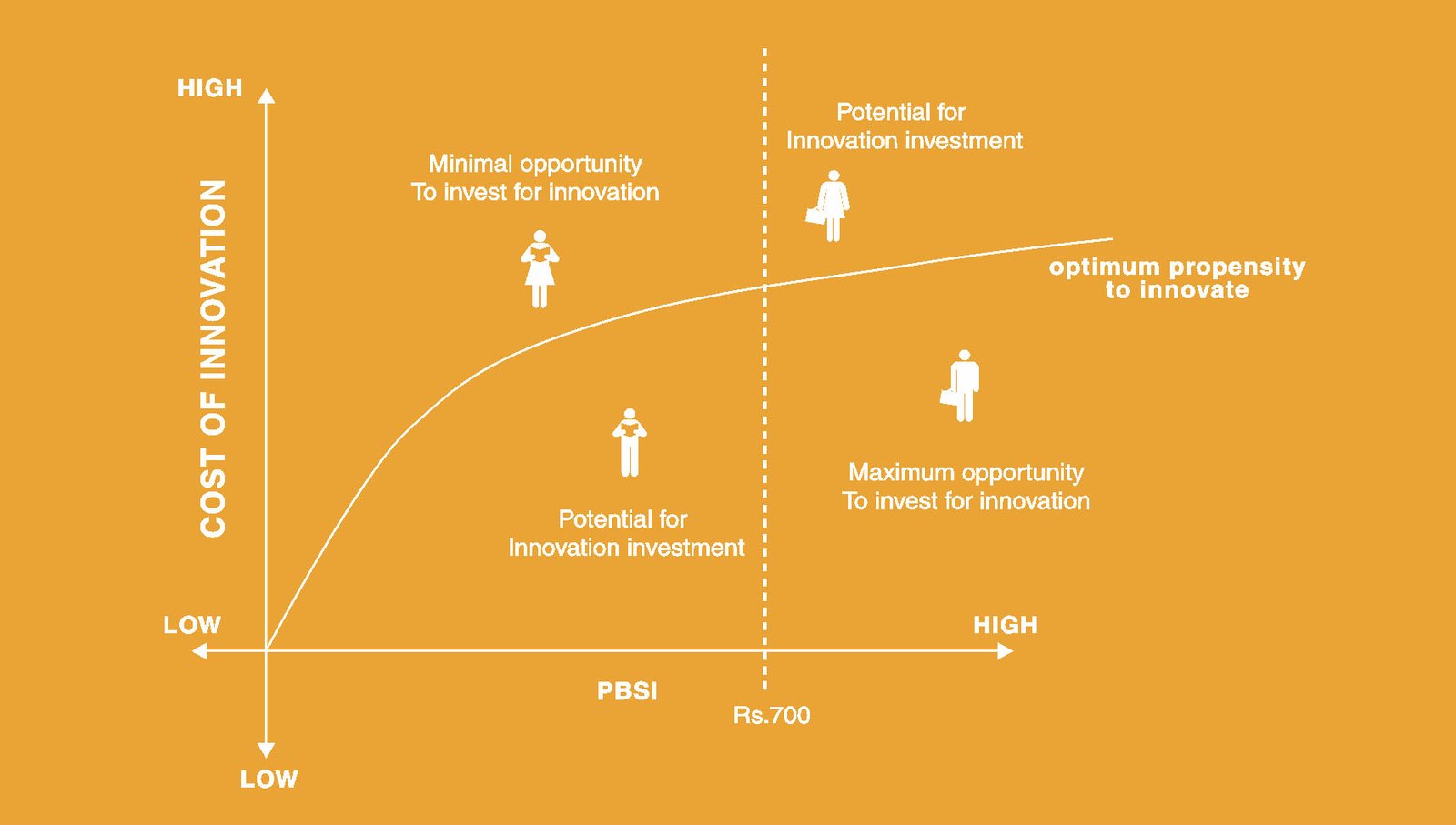 Factual Foundation:
• Men present a higher share of the market.
• Product innovation is more expensive than brand/attribution innovation.
• PBSI (present individual body spray investment) equals number of variants or brand purchased (x) propensity to pay for one body spray.
• Optimum pbsi level is based on q third quartile average of overall respondent spends.
• Optimum propensity to invest demonstrates the relationship between the cost of innovation based on concerns and the innovation opportunity present.
Working professionals (male) present the best opportunity to innovate due to comparatively low innovation costs (based on given concern areas) and high PBSI. Female youth present the lowest opportunity to invest in innovation. Any new target group can be entered into this analysis to understand the opportunity to invest in that segment.
HOW DO WE MOVE A TARGET SEGMENT INTO A REGION FOR OPPORTUNITY FOR INVESTMENT?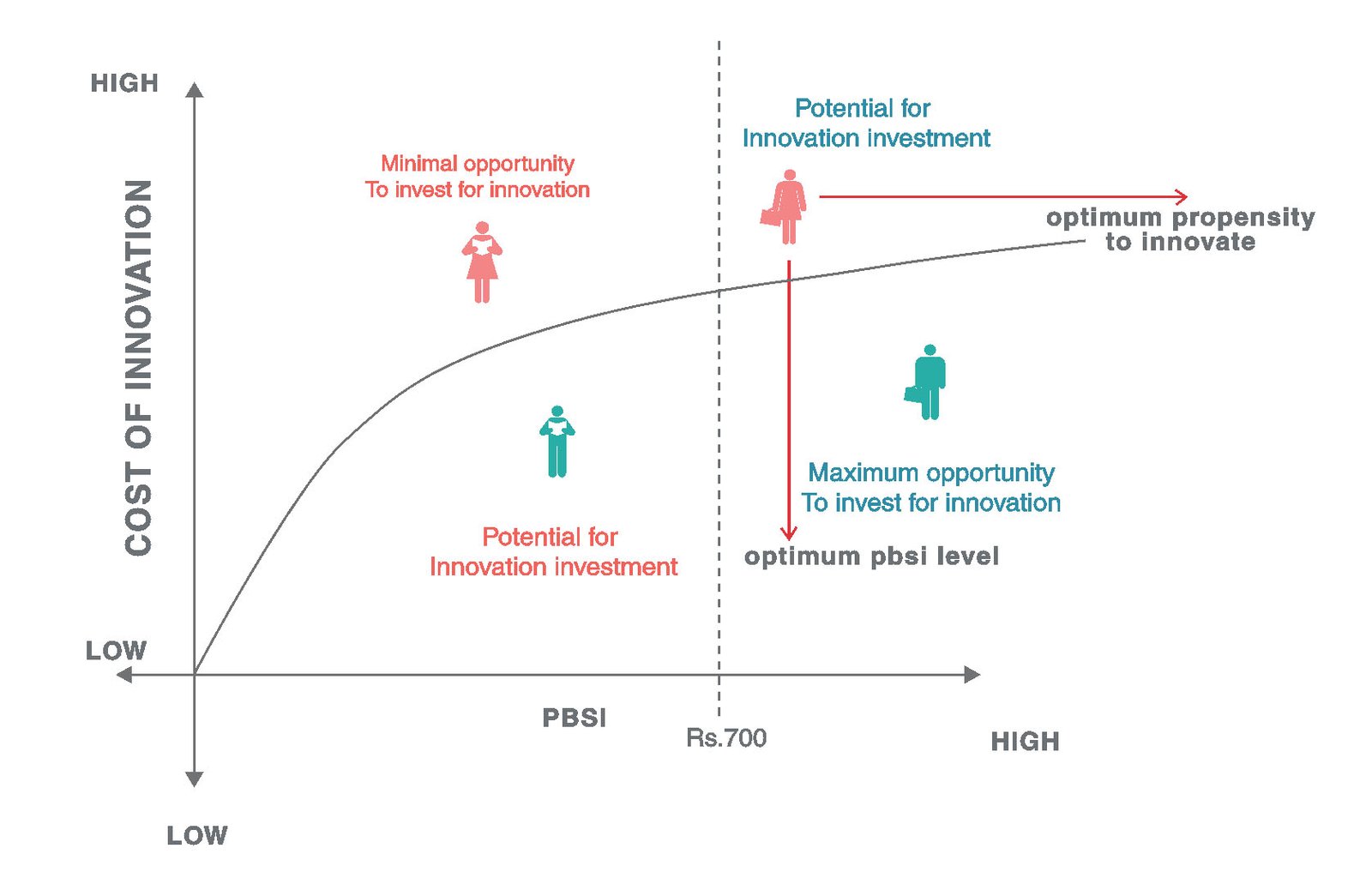 To move working professional (female) into a region of high opportunity to invest, we can either move the target audience east or south. The graph shows methods in which each target outside the maximum opportunity region can be moved.
Working Professional (female)
• This segment can be moved east through increasing the segments pbsi by increasing number of sprays used or the amount spent per spray.
• This segment can be moved south by transforming current concerns into benefits to reduce cost of innovation (e.g. embarrassment of using a body spray in public can be changed through a campaign to demonstrate how using a body spray in public is no longer taboo; Kleenex did a similar exercise with blowing your nose in public. Brands need to build romance, and increase the attraction of this segment towards the body spray segment.
Youth (male)
• This segment can be moved east through increasing usage. This can be done through brand and packaging changes to attract and engage with the audience. As this audience looks for more variety, innovation to offer more sprays in a minimalistic model can increase usage. Emotions will be the ultimate steroid to move this segment across.
Youth (female)
• This segment needs to be moved east and south. Specific product aimed at this category understanding its needs from the product level may help move this segment to become a contributor in this sector. This segment looks difficult, but with care and love; it, too, will move over time.
HIGHLIGHTS

This is a category of love. Consumers, which fall in love, will be loyal in the short-term due to the flirtatious nature of this category. Brand managers needs to continuously strive to engage and flirt back with their consumers to keep the spark between the brand and the consumer going. Investment in engagement activities depends on the value of the consumer segments. The value is derived from the cost of the consumer expectations, propensity to pay, and frequency of usage. As shown in this study, design and packaging being the first point of contact between the product and the consumer it is important for brand managers to maintain a steady dialogue with their consumer audience to understand their changing preference, address their needs, and keeping 'wowing' them with memorable innovative designs and engagement activities. Love@FirstSight aims to define and go into the depths of the consumer psyche to develop ideas of impact again and again.
AN AFFAIR UNCOVERED
UP'S AND DOWN'S BETWEEN THE CONSUMER AND THE BODY SPRAY SEGMENT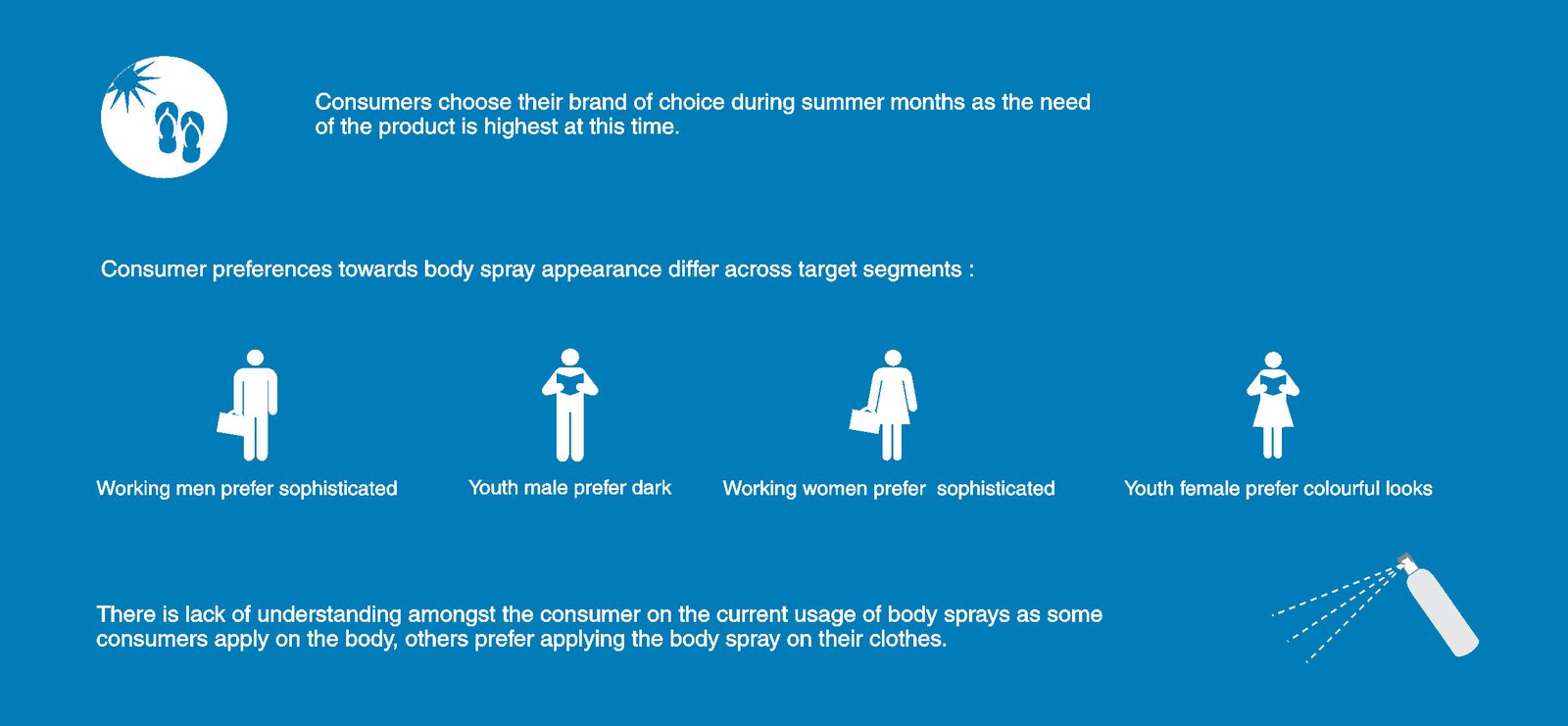 KEEPING THE SPARK ALIVE – FILTERING OUT THE OPPORTUNITIES
• Relative concerns can provide opportunities for brand managers.
• This will help to bring about brand leadership.
• To maintain these relationships, brands need to invest in the innovation process.
• Brand managers can target their segment by understanding each target segment's behavior, preference, concerns, and aspirations.
TARGET SEGMENT WORTHINESS – GOLD DIGGER OR TRUE LOVE
Each target segment gives an opportunity to define them to evaluate if they are segment worth investing in innovation for:
• In the current scenario working men can be defined as a segment which shows true love with give& take relationship.
• Working Women have an opportunity to create love if there are initiative to increase the usage of the product
• Youth male is a great opportunity as they are a category with great potential of love and they tend to invest a lot in the buying process.
• Youth Female would truly be a gold-digger in this category due to low usage and high expectation for investment in innovation.
Any new category can be assessed in the amount of investment to be made in innovation based
on the usage and the costs of their expectation of the aspects of innovation.
For more on this, write to us at info@lokusdesign.com.