In the day and age of online shopping, it has become harder than ever to entice customers into a retail store. How do you persuade shoppers to visit your store amidst the traffic and crowds when they can buy what they want from the comfort of their homes? As the convenience of e-commerce becomes more and more evident, a retail store has to be much more than a place to showcase products. If you want customers to get out of their homes and take the effort to visit your store, you need to offer an exclusive store layout, stunning interiors, awe-inspiring experiences, and exemplary customer service. We've turned our attention to 8 of the best retail spaces ever designed – from car manufacturers to fragrances, toy stores to home accessories, footwear to apparel – these retail spaces are bringing the brick-and-mortar era back, and how! Join us, as we take you on a ride!
Adidas, Berlin:
In a market where competition is so intense, you have to think out-of-the-box to truly strike a chord with your customers. That's exactly what sporting goods manufacturer Adidas began, with its neighborhood or NBHD concept stores. With the aim of plugging into the pulse of local trendsetters, artists, and streetwear fans, Adidas' Berlin store is the perfect amalgamation of brand consistency and localized store design. The NBHD retail concept stores, now also operational in Shanghai, Seoul, and London translate the spirit of each city into a regional store adaptation that connects with the local youth culture. The end result? An exclusive store in each city, that offers products based on deep-rooted knowledge of local artists and influencers and gives each store a unique buzz and differentiation. The Berlin store offers a vibe that's very local, keeping up with the city spirit through resident manifestos, graphic designs, and physical installations.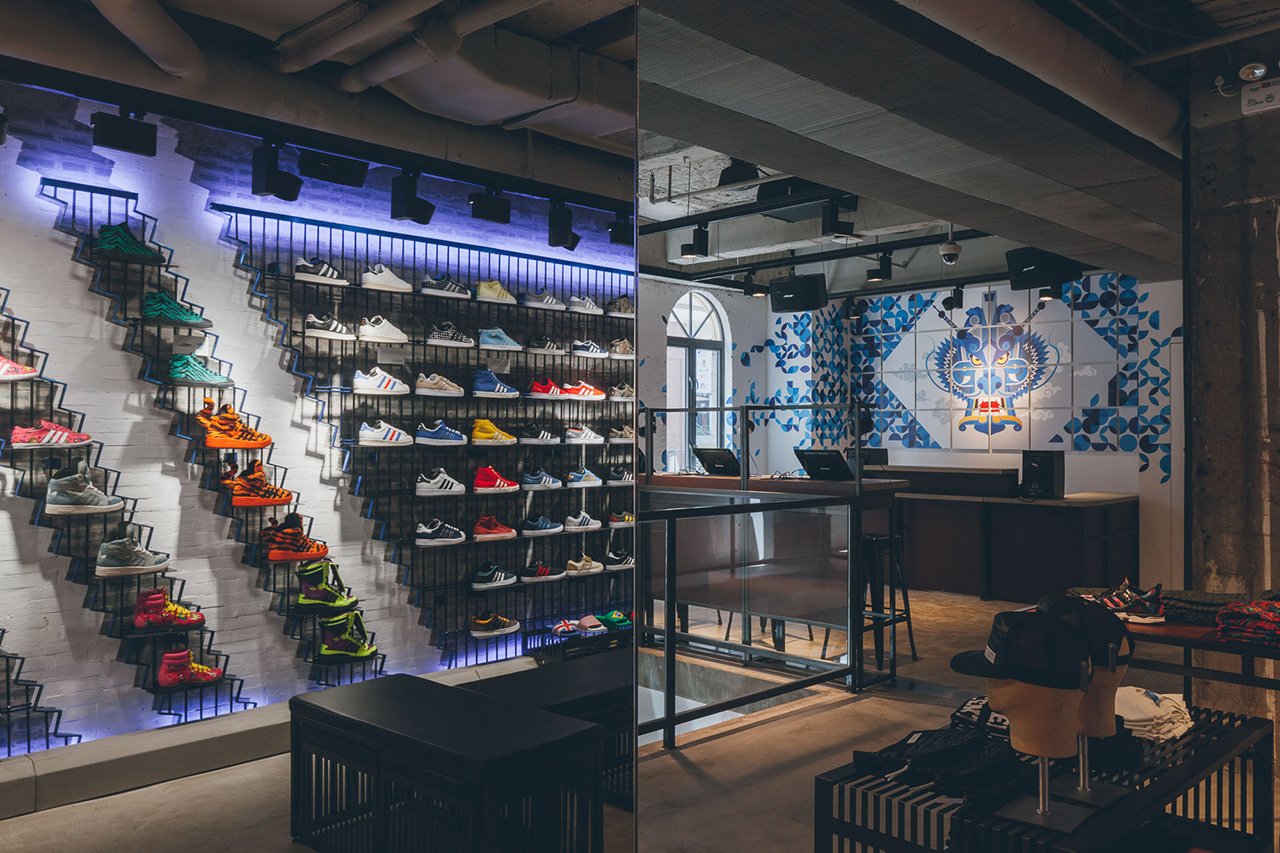 Bulgari, Rome:
Italian luxury brand Bulgari's Rome store exudes luxury in every manner possible. Redesigned and refurbished for the brand's 130th anniversary in 2014, the space is inspired by its Ancient Greek and Roman roots. Positioned perfectly at the base of the popular Spanish Steps, the interplay between contemporary and traditional lies at the core of the store's eclectic and captivating décor. The store showcases a wide variety of the brand's jewelry, fragrances, watches, accessories, and all things luxury. The sparkling finishes of some of the world's finest jewelry is infused in an indulgent retail space with one foot in the past, one in the present.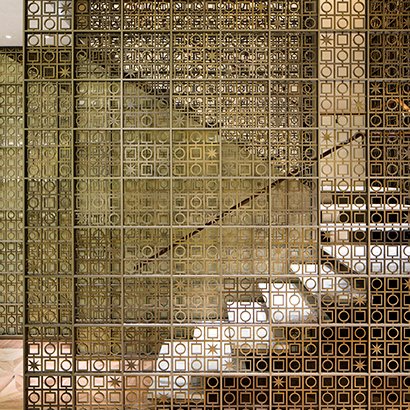 H&M, Melbourne: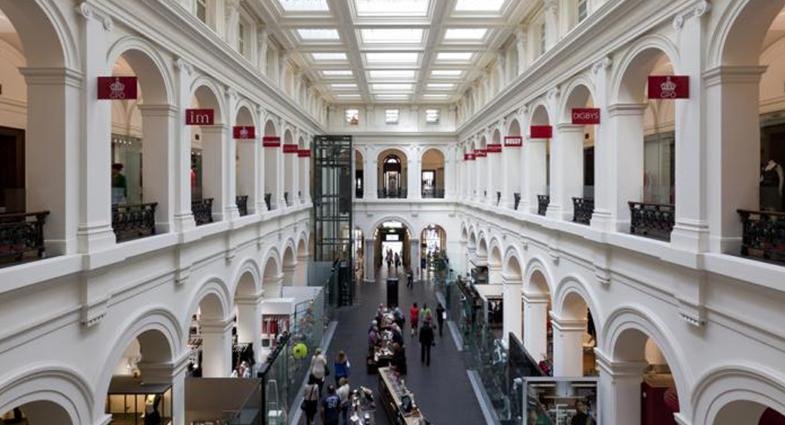 Swedish apparel brand H&M's Melbourne store offers all of H&M's clothing, kids, home and beauty range under one roof for a complete brand experience. What makes the store truly unique is its Victorian-era interiors with white walls and mirrors as far as the eye can see – a perfect blend of fashion and extravagant architecture that is every shopper's delight. The former General Post Office, now a stunning 1600-square foot H&M store is spread over three spacious floors. The striking Victorian architecture offers a magnificent setting, with its columns, clock tower, and magnificence of the postal hall. Get mesmerized by the sheer grandeur of the building and enjoy its alluring features such as the checked stone flooring, arched doorways and elaborately ornamented staircases as you shop.
LEGO, London: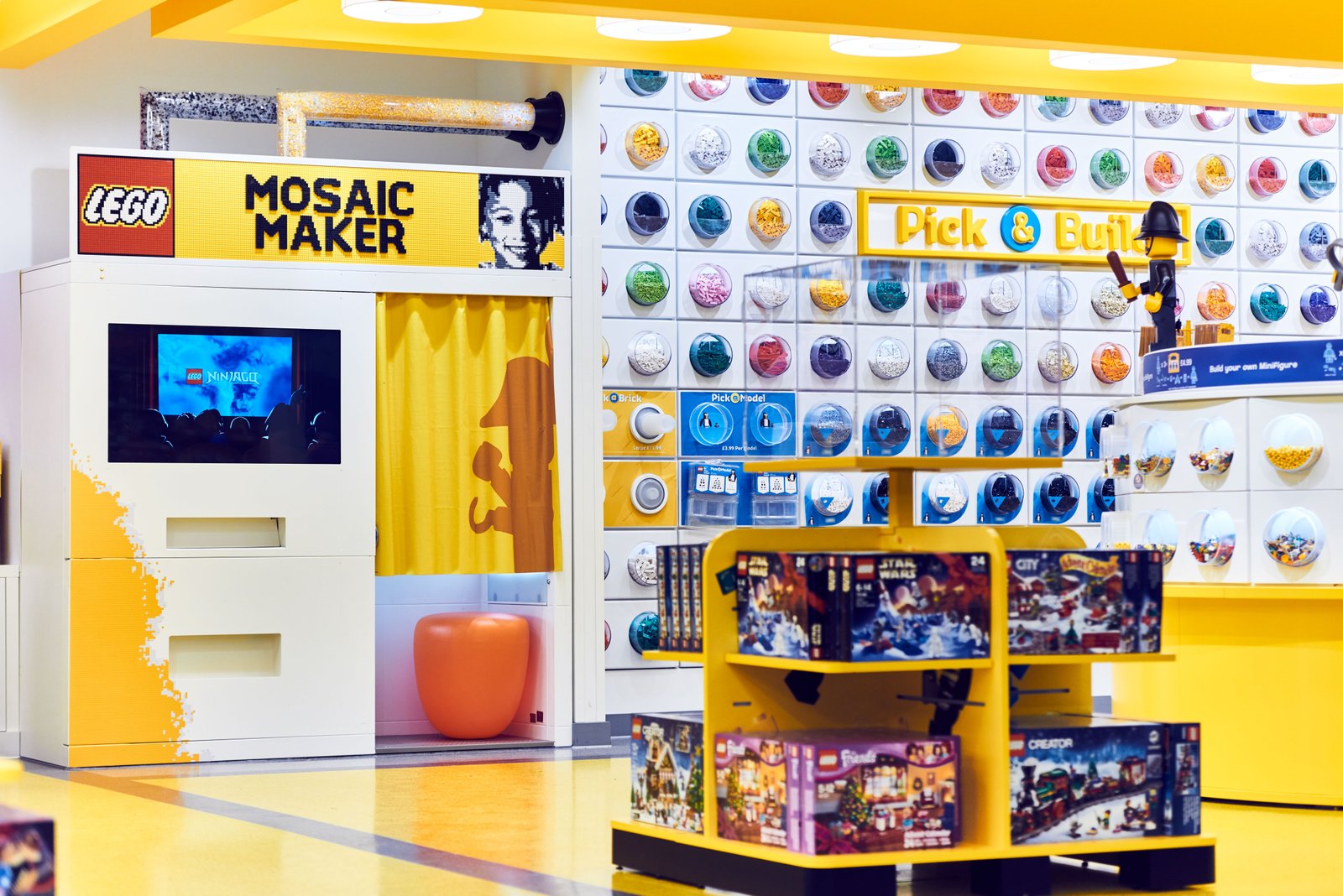 Danish toy manufacturer LEGO's London store at Leicester Square is the brand's largest store in the world. Opened in November 2016 and spanning 9,800 square-foot, LEGO London offers amazing experiences: get welcomed by the Leicester Square mascot, participate in the store's monthly mini-build and get the opportunity to build your very own, one-of-a-kind LEGO mosaic portrait using the LEGO Mosaic Maker – just step into the photo-booth, have a picture snapped and get printed instructions and bricks to build your own LEGO portrait. You can also enjoy several photo-ops with life-size LEGO installations including the London Tube made from 637,903 blocks, the 20-foot tall Big Ben, Sherlock Holmes, a Royal Guard, a mosaic map of London, and more.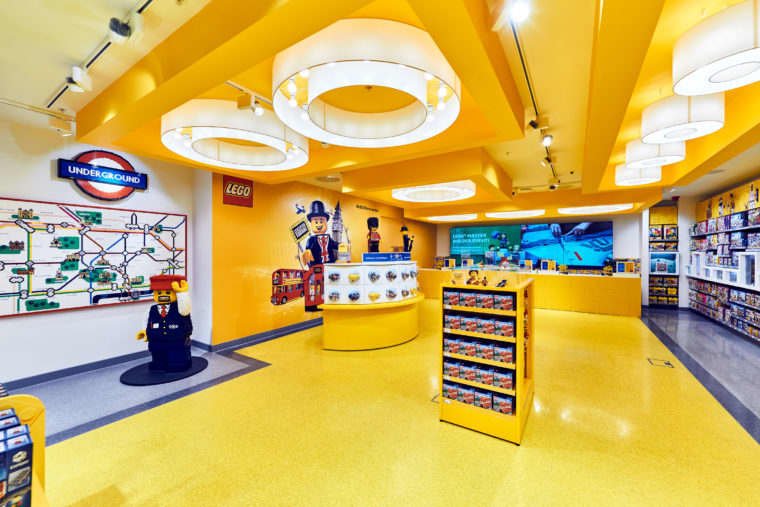 Prada, Tokyo:
Italian luxury fashion brand Prada's Tokyo store is one of Japan's largest flagship stores that's causing ripples in the retail space. The stand-alone glass building with its diagonal grid design is a distinctive work of architecture – sure to catch the eye at first glance. With six floors of products ranging from menswear to womenswear, fragrances to fashion accessories, the store offers brand enthusiasts and new visitors all that they desire. The store also houses several lounges and event spaces – and aims to blend the concept of shopping and pleasure with consumption and culture. The façade appears as an interactive optical crystal as you walk past it, and the glass walls with its structural cores and horizontal tubes not only support the ceiling but also morph into elevators and stairs, fitting rooms and display shelves – giving it a sense of unending shopping space that's deeply integrated into the architecture.
Sabyasachi, Delhi: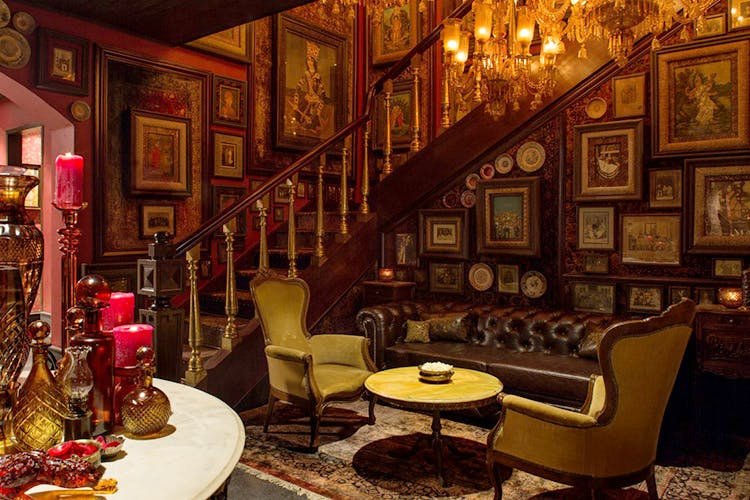 With designer boutiques sprawling across the Indian subcontinent, Sabyasachi's flagship store in Delhi gives grandeur and opulence a whole new meaning: from hand-painted chandeliers to antique carpets, Tanjore paintings to studio portraits – the space offers a unique heritage experience to shoppers. Spread over 13,500 square-feet and two wings – one showcasing women's bridal wear and jewelry and the other men's wear and ready-to-wear sarees and kurtas –the retail space houses a large heritage monument and a grand colonial era-inspired staircase that is sure to transport you back to a historic era.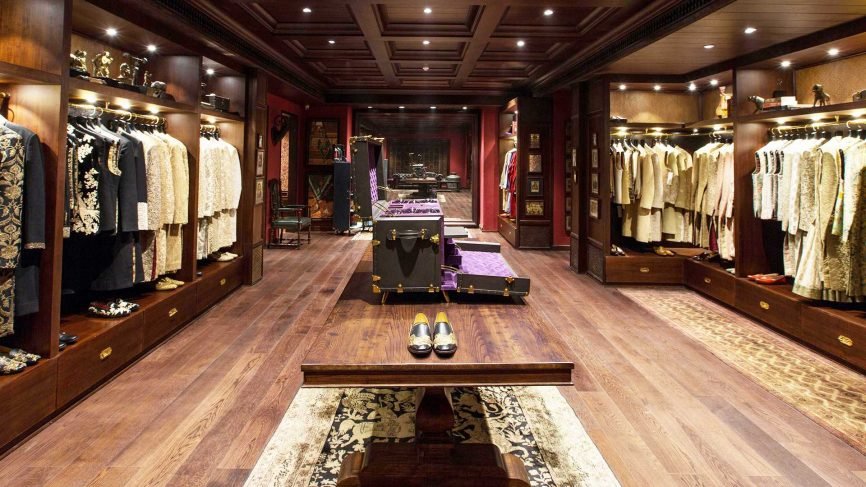 Swarovski, Innsbruck: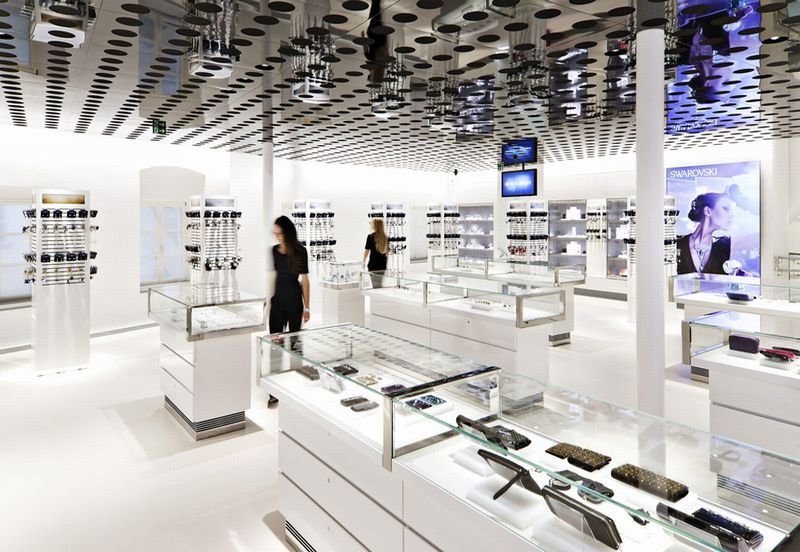 The home of Swarovski, the crystal store in Innsbruck is a glittering jewel nestled in the Austrian Alps. With a unique design concept and the widest range of dazzling sensations spread across two floors, the Innsbruck store is Swarovski's largest and is sure to invigorate anyone and everyone with its sparkle. From spaces replete with enchanting crystal figurines by world-renowned artists to an exceptional range of contemporary and classic jewelry, the store brings together numerous Swarovski product lines under a single roof. The five-meter high chandelier is undeniably the masterpiece of the showroom and the art space on the first floor offers stunning satellite views of illuminated buildings of cities such as Athens, Rio de Janeiro, Johannesburg, New York or Dubai – an expressive symbol of Swarovski's global network. As for post-retail therapy, The Bar offers a delectable range of refreshments.
Tesla, Manhattan: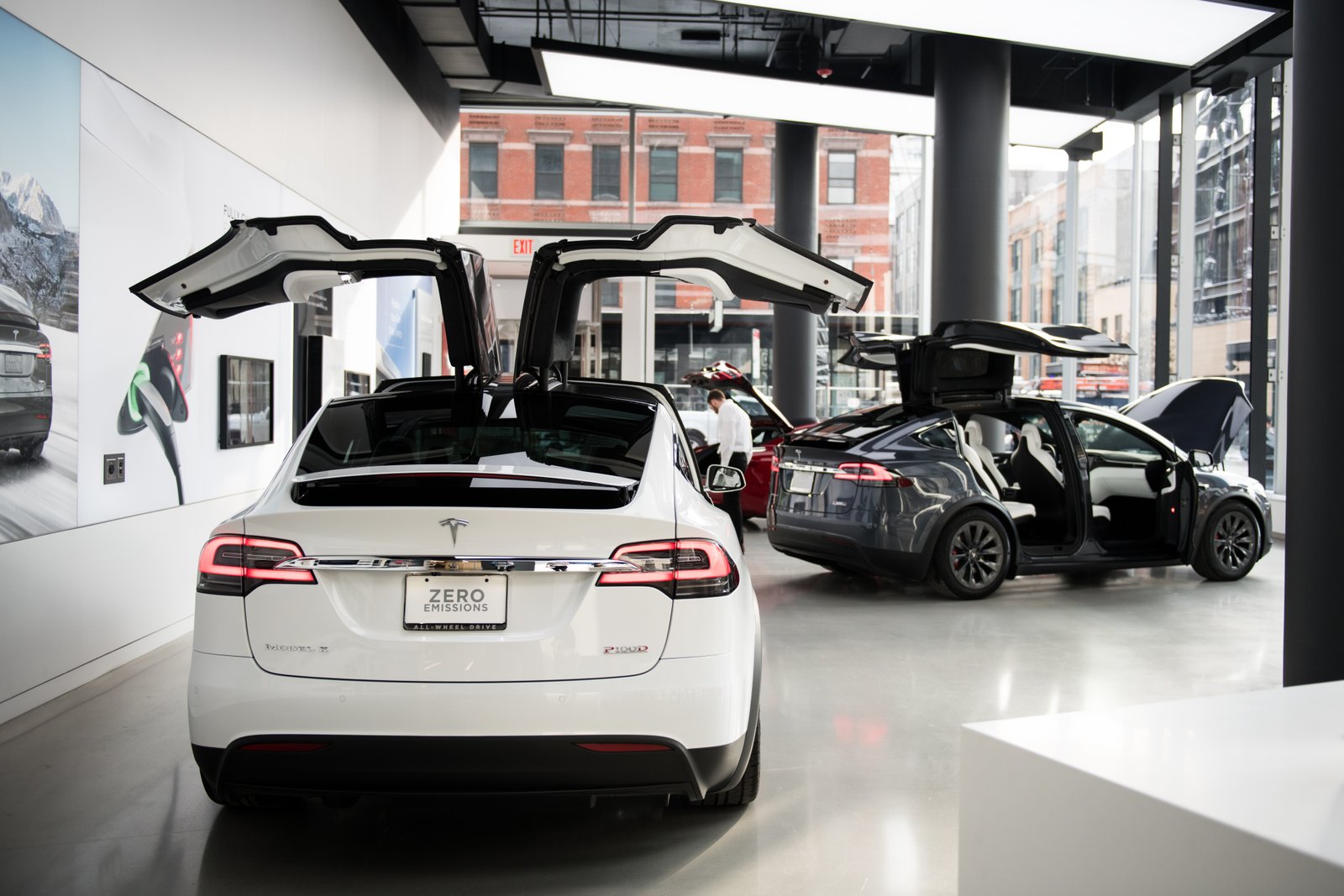 Although Tesla spaces worldwide feature the latest concept models of the electric car, with more than 3 million people visiting every year, what makes the 10,900-square foot Manhattan space truly unique is the immersive educational experience it offers to visitors around Tesla vehicles and energy products in general. The store has been thoughtfully designed to appear contrastingly different to your traditional car dealer and greatly emphasizes the uniqueness of the brand: an entire wall is dedicated to showcasing Tesla's competence in sustainable energy; the design studio allows you to design your own Tesla using a configurator. And if you want to learn more about electric cars, just head to the seating area and get all the information you need from the highly enthusiastic staff on electric vehicle tech in general, not just Tesla.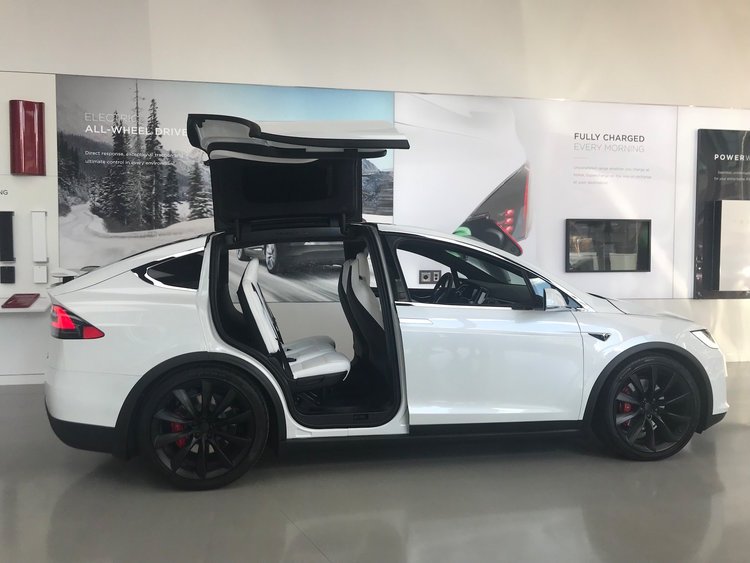 A common thread running through these amazing stores is that the design, interiors, layout, and the concept of the stores stand out not for their empty opulence but for the fact that the stores represent the very essence of that retail brand. The best-designed stores reflect the brand in subtle but meaningful ways. Bulgari is about heritage, Prada about opulence, Lego about building things, Tesla about responsible innovation -it's all apparent. A visitor to the store instinctively knows what the brand stands for -and buys into it even while being captivated with the décor and the layout. And, that's the key. So, which of these iconic stores are you planning on visiting first?
Looking for help in designing your retail store? Reach out to us on info@lokusdesign.com