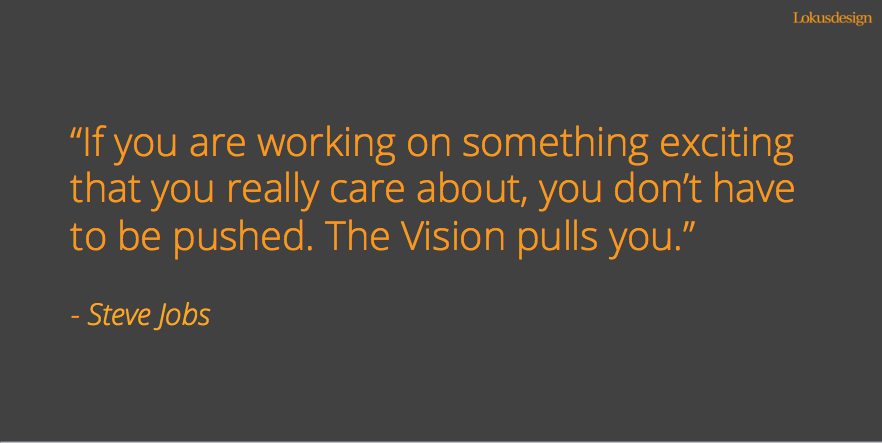 Earlier, we had discussed how the driving force behind any brand is its purpose. Like the captain of a ship navigating its way through unpredictable seas, a brand's purpose acts as the driving force behind an organization. Brand vision, on the other hand, is comparable to a compass. The brand's vision is what shows the path for the rest to follow. The vision helps the company plan out exactly where it wants to be in the foreseeable future. To recap, brand vision is a "vivid, aspirational (yet accessible) snapshot of the brand's imagined future/or the world it seeks to create".
Mission vs Vision
Usually for a company, there are three constructs that help guide a brand through its journey. These are namely their Purpose, their 'Vision Statement' and their 'Mission Statement'. Although it may seem that they are interchangeable terms, they're not. These constructs have distinct applications. We've already discussed 'purpose'. The vision statement elaborates on where the brand is headed. The questions a brand vision statement answers are, "What do we want to achieve?" and "By when do we want to achieve it?" A vision statement is often target-oriented and time-bound. It is also aspirational.
If the vision statement is the navigator of the ship, then the mission statement is his first mate. It highlights how the brand intends to get there. The mission statement answers "How do we go about achieving the vision?" A mission statement is more practical. A vision statement is future focused whereas a mission statement is centered around the present. For example;
Amazon's mission and vision statements are as follows:
Vision: To be Earth's most customer-centric company, where customers can find and discover anything they might want to buy online.
Mission: We strive to offer our customers the lowest possible prices, the best available selection, and the utmost convenience.
Here we can see that Amazon's vision statement talks about being customer-centric. It also implies that they want to be the one-stop shop for online customers. The mission statement describes how they intend to achieve this, such as offering low prices, a good selection, and convenient services.
Let's take another example. These are LinkedIn's vision and mission statements:
Vision: To create economic opportunity for every member of the global workforce.
Mission: To connect the world's professionals to make them more productive and successful.
Do you see how the mission complements the vision of the company?
The Importance of Brand Vision
The importance of a developing a brand vision statement is manifold. The Dalai Lama has said, "In order to carry a positive action, we must develop a positive vision." This statement holds true for companies as well. Without a vision statement, a company will find it difficult to solidify its goals. A good brand vision is motivating and inspiring, but it is also clear, stable, and achievable. It is also true to the core principles of the company and communicates this.
In a study conducted by the Boston Consulting Group, researchers found that customers identified authenticity as one of the top qualities that attracts them to a brand. This is especially true for the Millennial market. A clear and well- articulated brand vision can help a brand create an authentic identity which can help it reach out to its consumers who are seeking an authentic consumer experience.
Another study showed that the meaningfulness of a company's vision statement is directly related to their employee's levels of job satisfaction. After observing the impact of a meaningful vision statement on employee engagement, researchers found that employees who didn't find their company's vision meaningful had average engagement scores. Employees who did find their company's vision statement meaningful scored 18 percentile points above the average!
Writing a Powerful Vision Statement
Writing a great vision statement requires thought. It has to be driven by your company's purpose which itself is derived from your positive valence and brand values. A good vision statement should ideally be short and easy to understand for everyone. It isn't helpful or inclusive if the statement is filled with jargon. It should also be specific and clear. Having a detail-oriented statement can be helpful. And it should also be aspirational. In a previous blog, we had discussed a few important questions you should ask yourself while defining your brand's vision.
So now that we've discussed the nuance of a brand's vision statement, let's take a look at some powerful vision statements driving strong brands.
1) Mastercard: A World Beyond Cash
2) Intel: If it's smart and connected, it's best with Intel
3) IKEA: A better everyday for all people impacted by our business
4) ABB: Power and productivity for a better world
5) Ferrari: Italian Excellence that makes the world dream
6) Caterpillar: A world in which all people's basic needs – such as shelter, clean water, sanitation, food and reliable power – are fulfilled in an environmentally sustainable way and a company that improves the quality of the environment and the communities where we live and work.
7) GSK Save The Children Foundation: A world in which every child attains the right to survival, protection, development, and participation
8) Wikipedia: A world in which every single person is given free access to the sum of all human knowledge
9) Oxfam International: A just world without poverty- Oxfam envisions a world in which people can influence decisions which affect their lives, enjoy their rights, and assume their responsibilities as full citizens of a world in which all human beings are valued and treated equally
10) World Health Organization: A world in which everyone can live healthy, productive lives, regardless of who they are or where they live
11) Grameen Bank: A world without poverty and hunger
12) Uber: Transportation as reliable as running water, everywhere for everyone
Looking to craft a powerful Vision statement for your brand? Write to us at info@lokusdesign.com.